The East Coast Home of the Summer Pro League
Who's next to be discovered?: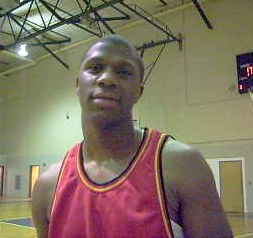 Most frequently asked question: How do I get to be a part of the Premiere Select Tour team? Step 1 (video1): try to reach all-star staus; Step 2 (video2): be ready; Step 3 (video3): play hard.
Team: Ralph's Rats
Confident? Maybe. Vocal? Possibly. Effective and productive? No Question! Ralph Allen has prepared to re-introduce his 2009 version of the very formidable Ralph's Rats to the 9th Annual Premiere Exposure/Education Summer Pro League.
After blazing through the regular season last year with just one defeat, Ralph's Rats suffered a tough playoff loss to a very focused team Renegades who were determined on getting back to the finals. However on their way to an impressive regular season, the Rats were able to give eventual champs, the Manchester Millrats, their only loss of the season.
With an all pro backcourt of top Boston-native point guard Courtney Eldridge (Brazil & Poland), eventual 2008 Premiere Select members Tim Jones and Sherrod Prezzie-Blue (UK), Derek Coleman (Holland & Germany), add 2008 Premiere All-star JP Marcellus, plus a front court of Tyrelle Blair (Ukraine) and Mark Flavin (Uruguay), it is easy to see how the Rats could enter any gym confident and ready to win.
Ralph has worked closely with the top pro sports minor league teams in the region for years. His outreach of knowing top level players has been proven. In his enjoyment of the game, he sometimes calmly shows enough psychological warfare on opponents that would make the great Ali proud. He certainly embodies the recognizable mentality of former Knick great and current color commentator M. Jackson, when Jackson often says, "this is grown man business." Ralph's Rats (Double R) are back and they know the summertime is not for vacation when you are a pro. It's game time.
Expansion Season:
Premiere Select Tour: Premiere Sports, LLC will co-sponsor 5 - 7 All-stars to play 4 - 6 games in Europe during Labor Day week. more
All-star MVP: The 2009 Premiere Exposure/Education Summer Pro League All-star MVP will receive direct entry (no fee) to a Premiere Sports, LLC event in the fall. more
Finals MVP: The 2009 Premiere Exposure/Education Summer Pro League Finals MVP will receive direct entry (no fee) to a Premiere Sports, LLC event in the fall. more
It is officially Game Time! Are you ready?
Team registration ($210 deposit) is necessary and the balance or total is due before the team's first game.
Note: Online registration and pre-registration concludes on July 1, 2009.
The league will comprise of 24 (maximum) teams with 10-man rosters.
Veteran's registration is available to the players who have competed in at least 4 Premiere Sports, LLC events, i.e. the Premiere League or Premiere camps (European or US).
For more information, please contact us.
Premiere Alum, Teams, Education, Player photos, Highlights, Player Arrivals, Player Departures, Coaching, Gymnasium, Registration, 2008 Stats, Quotes.